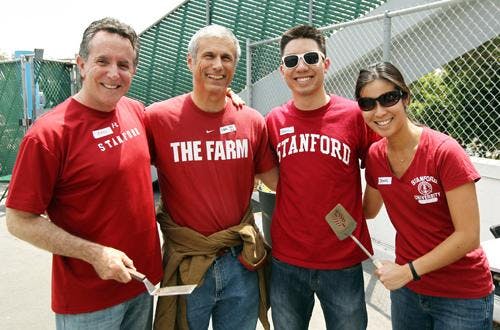 Alumni Day of Service: Help out Apprentis d'Auteuil
Like every year, Beyond the Farm – the Stanford Alumni Day of Service – will be a great opportunity to enjoy a day out with fellow Stanford Alumni while giving back to the community. This year, we will work with Apprentis d'Auteuil at one of their establishments and help them out while spending time with the kids there (age 10 to 17).
Apprentis d'Auteuil is a well-known French foundation committed to helping young people in distress for almost 150 years in France and more than 20 years worldwide. In France, they welcome, educate, train and insert more than 23,000 young people in distress and help them gain confidence in themselves and the adult world. For more information on what they do and how they do it, you can visit their website: https://www.apprentis-auteuil.org/

What's the program?
10am: Welcome and icebreaker with the kids living in the Meudon establishment. We'll then help out with some paintwork in the facility.
1pm: Lunch together, prepared by the kids.
2pm: Cricket initiation!
4pm: Farewell snack and end of the day.
What else should I know?
– We'll meet directly there (1, rue du Père Brottier – 92190 Meudon). The place is a ~5-minute walk from Meudon-Val Fleury station (RER C) and a ~15-minute walk from Meudon station (Transilien N), but we'll also arrange carpooling options from Paris (details to be given to the attendees).
– Protective coveralls will be provided for paintwork, but we recommend you to wear clothing adequate for both painting and playing sports.
– Registration is free.
– You can join us for morning activities only if you are short in time but still want to participate.
– Don't hesitate to come and have fun with fellow alumni while helping out the community!
Date and time
June 9, 2018, 10:00 AM - 4:00 PM
Location
1, rue du Père Brottier
92190 Meudon